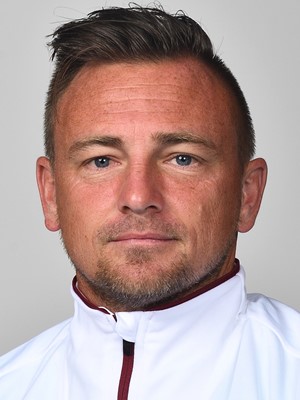 University of Massachusetts Director of Athletics Ryan Bamford announced on Dec. 19, 2017 the hiring of Jason Dowiak as the new head coach of the women's soccer program. Dowiak takes over the Minutewomen after a successful five-year stint at South Florida where he most recently served as the associate head coach and recruiting coordinator.
"We are very excited to welcome Jason Dowiak to the Massachusetts Athletics family. Jason is a highly respected soccer coach who has been around high-achieving programs his entire career," said Bamford. "His recent work developing South Florida into a nationally-recognized top 25 program was a tremendous plus that stood out during our search process. I have every confidence that Jason will restore our program to a level of success seen in our past."
The Bulls enjoyed a historic year in 2017 capturing their first-ever American Athletic Conference championship title and a spot in the NCAA Tournament for the third time in the past four seasons. USF posted a 13-4-2 overall record marking the sixth consecutive year with 10-or-more wins – five of those with Dowiak on staff. Sophomore Evelyne Viens, who Dowiak helped recruit, earned All-America honors marking another first for the program.
"I am honored and excited to join the UMass Department of Athletics. The University of Massachusetts is an impressive institution and the women's soccer program has a history of success that I look forward to returning to greatness," said Dowiak. "I want to thank Director of Athletics Ryan Bamford for his confidence in my leadership and I truly look forward to being a positive addition to his exciting vision for UMass."
Dowiak's career in South Florida began during the 2013 campaign where he spent four years as an assistant coach before being promoted by head coach Denise Schilte-Brown to associate head coach. The Moorestown, N.J., native was named the recruiting coordinator in 2016 where he showed tremendous skill in bringing highly talented players to Tampa including two USYSA national champions, two high school players of the year, three junior college All-Americans and a CCCAA Junior College National Player of the year. His recruiting reach also extended internationally into Canada, Jamaica, Mexico, Norway, Iceland and Haiti.
In his time at South Florida, he helped mentor 22 all-conference selections which helped build the Bulls into a nationally competitive program as evidenced by its program-best No. 14 ranking in 2016.
"I also want to thank USF Athletics Director Mark Harlan, Deputy Director Barry Clements, Associate A.D. Jim Fee, and Head Women's Soccer Coach Denise Schilte-Brown & Associate Head Coach Chris Brown for their support and guidance over the course of my time at South Florida," said Dowiak. "I have been blessed to work for truly impactful leaders at USF and want to express my sincerest gratitude for their input in my development. I am also so grateful to have gotten to work with incredible groups of student-athletes over the years who have helped prepare me for this step in my career. I look forward to bringing my knowledge, passion and energy to the UMass women's soccer program!"
Dowiak, who played at College of Charleston for Ralph Lundy, served as an assistant coach for the FGCU women's program from 2011-13 and helped guide the Eagles to their highest NCAA RPI ranking and first-ever Southeast Regional ranking. Dowiak was directly involved in all aspects of a program that won its first-ever back-to-back Atlantic Sun Conference Tournament titles and earned NCAA tourney berths in his two seasons on staff.
Before Dowiak headed to Southwest Florida, he was Anderson University's women's soccer head coach from 2007-2011 and helped the Trojans become one of the nation's Top 20 Most Improved NCAA D-II Programs. Dowiak led Anderson University to a Conference Carolinas Tournament appearance in his first season and later helped the program reach its first conference tournament championship game. The Ravens also posted their best overall and conference record (12-9, 8-3) in school history under Dowiak.
Dowiak has remained busy outside of college soccer as the director of Bulls Soccer Camps and the Southeast Elite College ID Camps from 2014-17. Dowiak has been a staff coach with Florida's Olympic Development Program and the technical director and ECNL coach at Tampa Bay United Rowdies Soccer Club since 2014.